Tony Rykers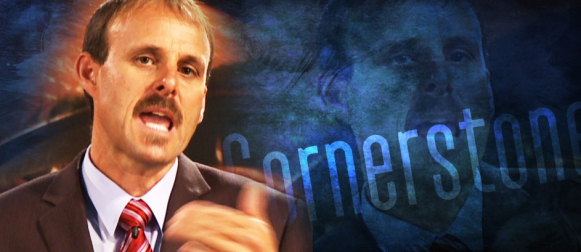 Tony Rykers is a dynamic speaker/presenter for Cornerstone Ministries Australia. Tony has travelled extensively over the past ten years, nationally and internationally, researching and lecturing. His research has concentrated on world events and how they relate to Bible Prophecy.
Tony is director of Cornerstone Ministries. Cornerstone Ministries are devoted to the spreading of the message of salvation through Jesus Christ and the news of His soon return. They do this by letterboxing, door knocking, DVD video ministry, Bible study correspondence courses, family camps, revival meetings and evangelistic campaigns. Since their beginning in 1999, Cornerstone Ministries has grown into a dynamic, faith–based ministry that endeavors to make a positive impact in the lives of people.
For more information regarding Cornerstone Ministries and Tony Rykers, contact Kelly at Cornerstone Ministries here.
Sermons

The Cave (Video)
06/03/12, 01:30 PM
30:58 minutes

The Joy of the Lord (Video)
12/02/12, 10:30 AM
30:58 minutes

The Cave
12/11/11, 09:30 AM
72:00 minutes

The Joy of the Lord
12/11/11, 10:30 AM
30:10 minutes
Series
The Godhead and the Holy Spirit

The Godhead and the Holy Spirit Part1
14/11/11, 12:30 PM
44:42 minutes

The Godhead and the Holy Spirit Part2
14/11/11, 12:30 PM
38:50 minutes
Bowing to Babylon

Bowing to Babylon Part 1
12/11/11, 10:30 AM
46:49 minutes

Bowing to Babylon Part 2
12/11/11, 10:30 AM
44:47 minutes
Final Events Series

1.The Prophets Code
23/10/11, 10:00 AM
60:36 minutes

2.Time Running Out
24/11/11, 12:00 PM
60:01 minutes

3.The Second Coming
24/11/11, 12:00 PM
48:42 minutes

4.The Great Controversy
24/11/11, 12:00 PM
43:07 minutes

5.The Antichrist Part1
24/11/11, 12:30 PM
41:44 minutes

5.The Antichrist Part2
24/11/11, 12:30 PM
35:49 minutes

6.The Seal of God
24/11/11, 12:30 PM
57:40 minutes

7.The Mark of the Beast
24/11/11, 2:30 PM
48:35 minutes

8.The New World Order
24/11/11, 2:30 PM
52:28 minutes

9.Spirits, Demons & the Dead
24/11/11, 2:30 PM
55:56 minutes

10.How to Survive the Future
24/11/11, 3:00 PM
39:15 minutes

11.The Great Judgment Day
24/11/11, 3:00 PM
60:35 minutes

12.In Search for the True Church
24/11/11, 3:00 PM
77:17 minutes